What is HQ-Modular?
HQ-Modular is a modified way of playing Games Workshop's classic board game, HeroQuest (1989). The original HeroQuest was played on a fixed board with static rooms and hallways, which drastically limited the variety of dungeon layouts one could create. Later, Games Workshop continued to develop new methods that implemented randomly generated dungeon layouts in Advanced HeroQuest (1991) and Warhammer Quest (1993). Although these random maps were a vast improvement on the initial HeroQuest game board, both AHQ and WHQ boasted more complicated rules for combat and a more complex magical system. HQ-Modular aims to incorporate "modular dungeon generation" mechanics introduced by AHQ and WHQ, while still maintaining the straightforward simplicity HQ is renowned for. The rule adjustments are slight and sparse (searching for traps, line of sight, etc…), but truly add to the overall experience and enhance an already excellent game. Try out HQ-Modular with your gaming group and we promise–you won't be disappointed!A sample Quest map: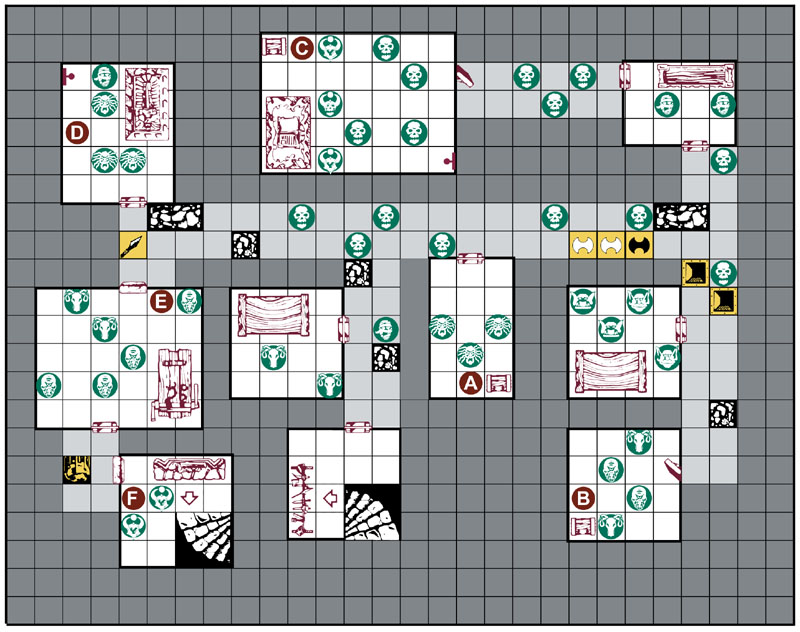 For consistency's sake, it's important that the dungeon layout always fit the size of the original board — 22 x 28 spaces (all custom-made German HQ board have two-space hallways around the entire board, with the exception of the halls surrounding the central room.
That way, gameplay is kept organized by:
having 1 common program used as an editing tool
requiring the same amount of tabletop space necessary to play the game
I created several combinations of rooms, varying in size and "stone type" (different floor markings that distinguish rooms with each other, similar to the different colored rooms of the HQ board) in order to control the quantity of rooms needed. I made sure that the size and number of rooms matched up with the original game board so that original Quests can be played on the modular board and vice versa. To play my modular Quests you will need the following components: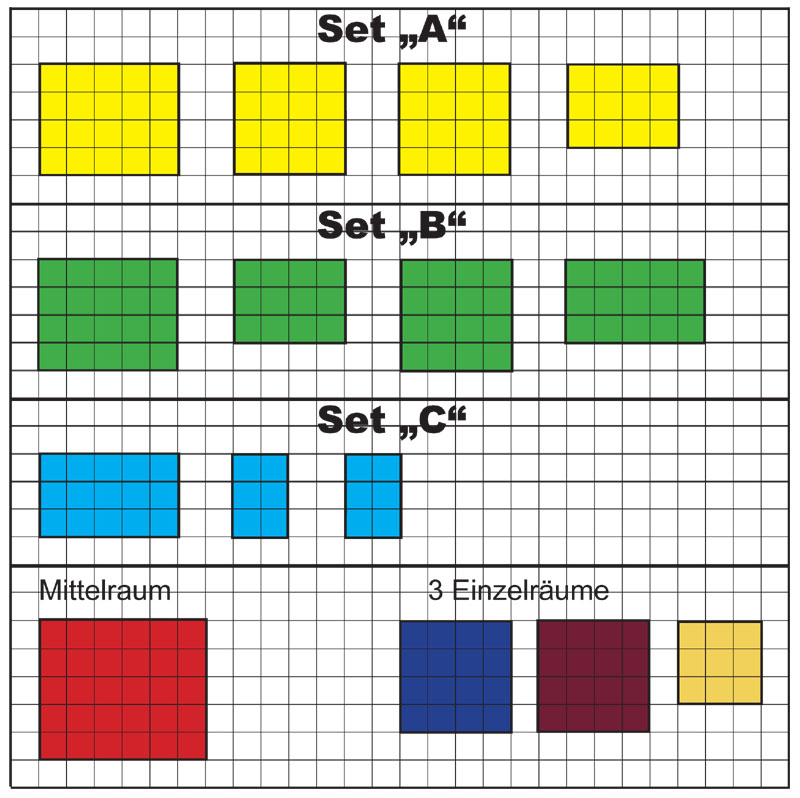 "Mittelraum" is the central room on the original board, "Einzelräume" are 3 single, independent rooms.
All rooms belonging to the same lettered set (i.e. all rooms in group "A") get painted the same color so that large, uniquely shaped rooms can be created by combining 2 or more rooms from the same group. The possibilities are enormous, allowing for elongated or L-shaped room combinations.
2) Corridors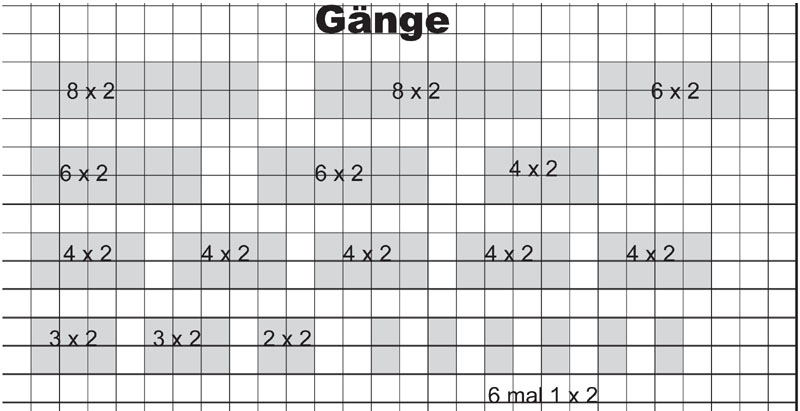 The original board contained longer corridor segments and more of them than are required in HQ-modular. After a great deal of playtesting, we decided to use fewer rooms and corridors than the original board used for two reasons. One, because HQ-M games proved more exciting, and two, we didn't waste time wandering around trying to reveal every accessible area on the board in each particular Quest (a typical time waster in standard HQ games).
By organizing HQ-M the way we did, we were able to create a system that uses a specific set of components (15 rooms, 20 different corridor segments) and anyone who owns the entire set has the ability to play every adventure without running out of floor pieces.
Another way we sped up the game was by using double doors (from WHQ) because no one monster or Hero can block both spaces at a time (I'll go into more detail later on).
I didn't decide to make a homemade board of my own until after a great deal of standard HQ playing. I soon realised that the original board is rather circuitous…not that that's a bad thing, but gameplay started to become routine and monotonous. There was something else that started to bother me as well—each individual square was slightly smaller than the minis' bases, making them stand so close together that they often scratched off each other's paint. Then throw furniture and doors/door bases into the fray and things got way too crowded real quick. Therefore, for my HeroQuest board, the squares I use are 3cm by 3cm with a 3mm gap between spaces, as this board demonstrates: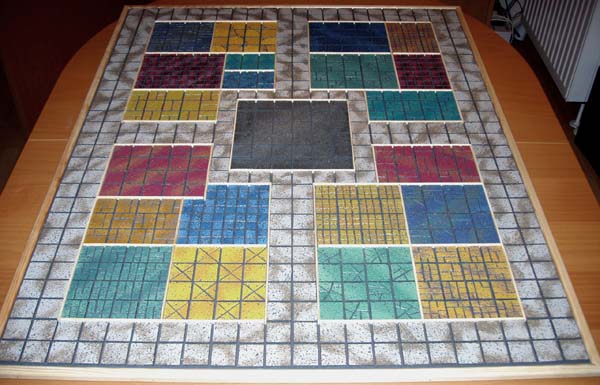 ---
Back to HQ-Modular. The first version of HQ-M was made out of cork. Here are some pictures: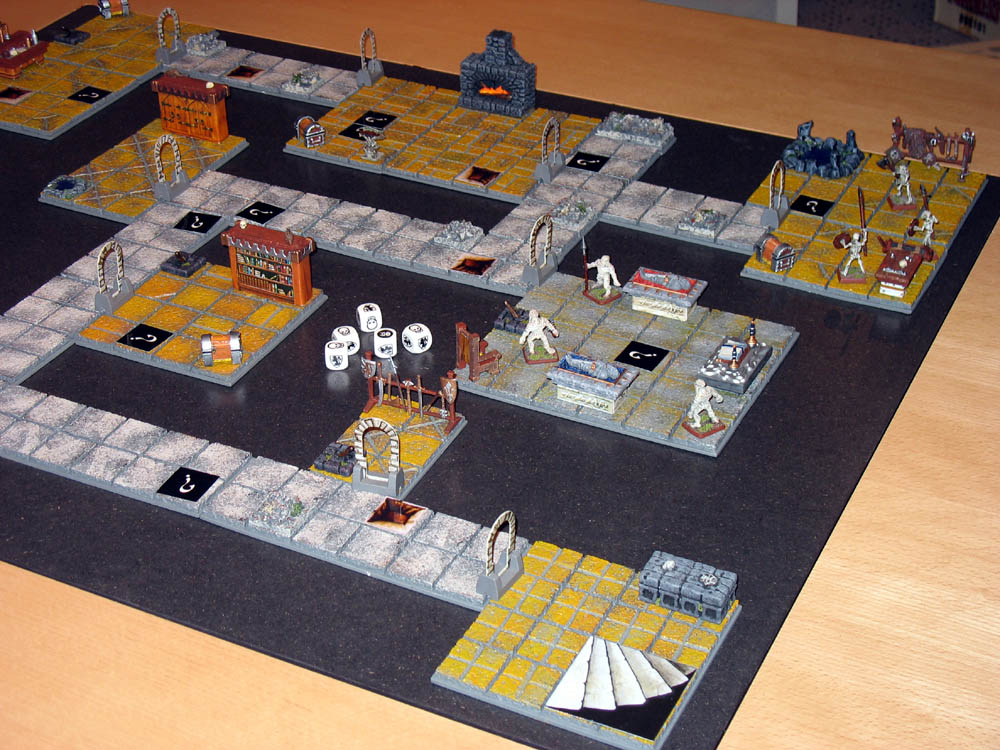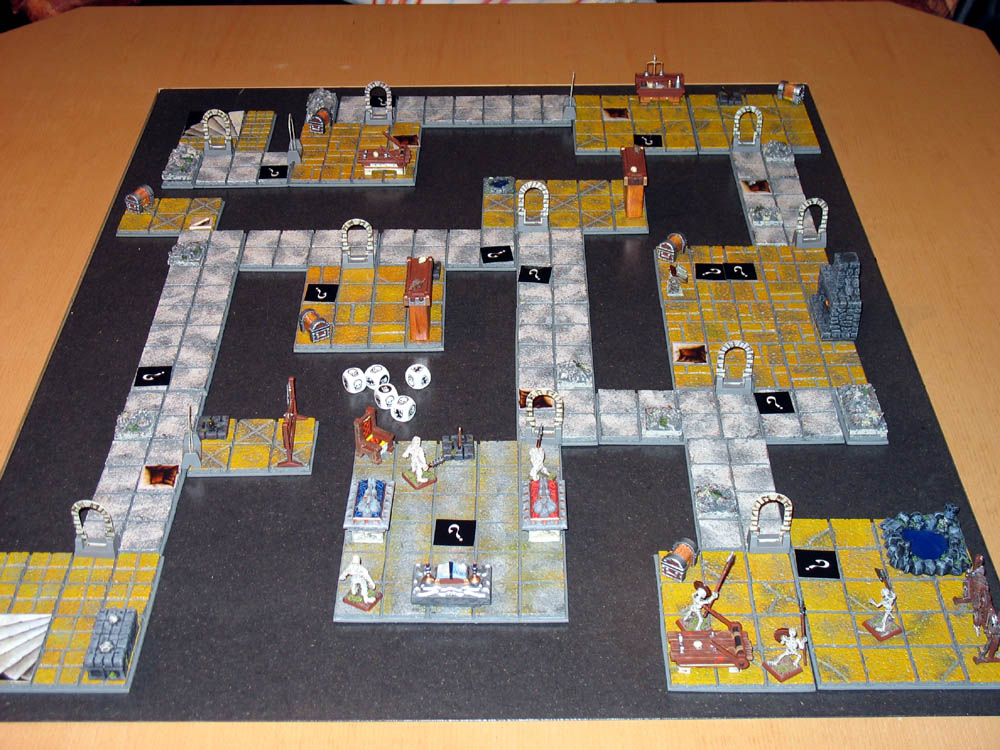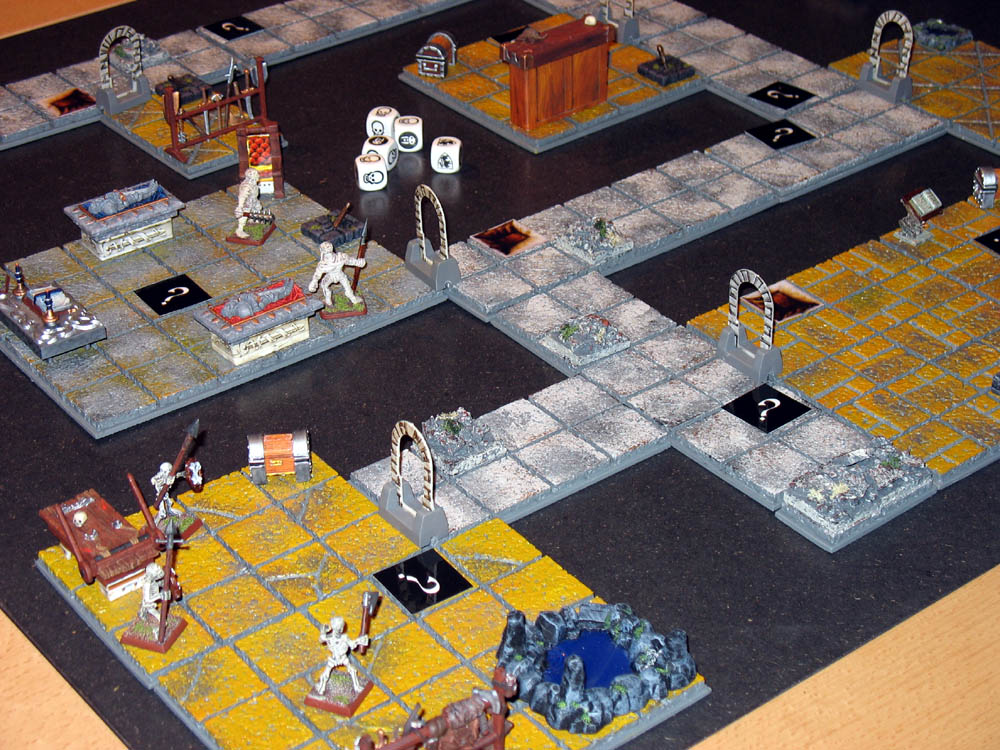 This cork version was fine for eying-up the measurements and testing the layout, but aesthetically it looked extremely dull, so we tried to improve the design. The moulds from Bruce Hirst (www.hirstarts.com) looked great…but the molds available at that time had individual squares which where were still only one inch, smaller than the size I wanted. I wrote to Bruce and asked him if he could create moulds with larger tiles, but he wasn't interested. So my wife Kelis decided to start sculpting our own tiles with "Magic Sculp"(www.magicsculp.com/), which seemed to match our expectations. Here is a picture of the tiles, Kelis made. Below the tiles you can see the first attempt of our moulds: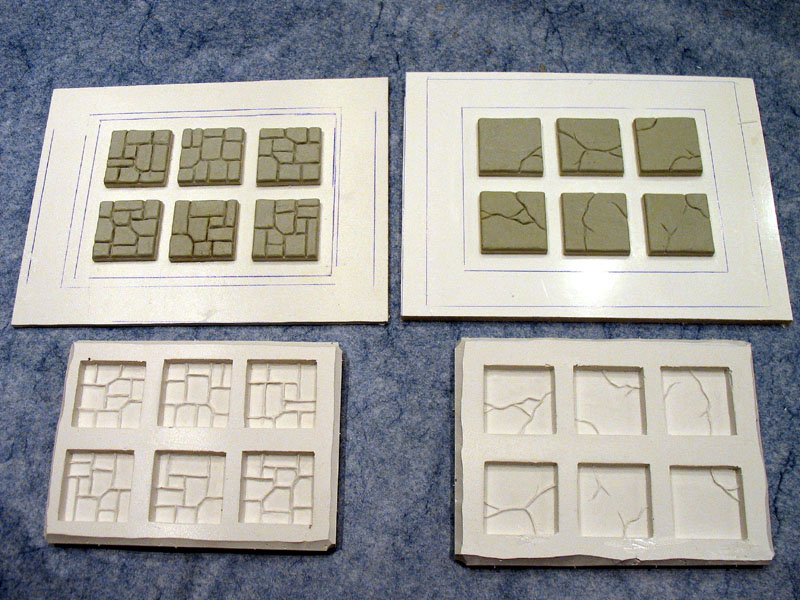 We bought some dental silicon and fashioned moulds of our own….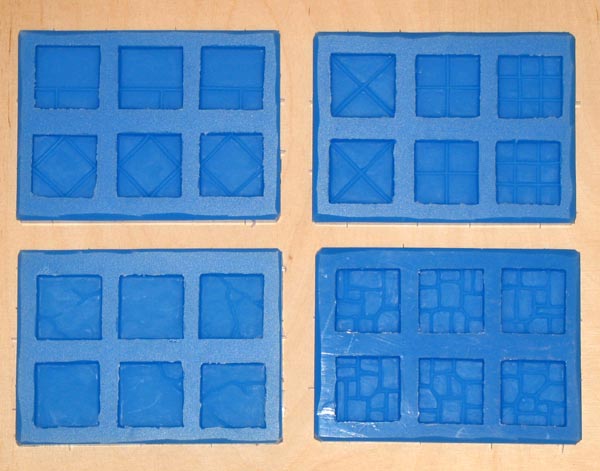 …thus resulting in Version 2 — made out of cast resin: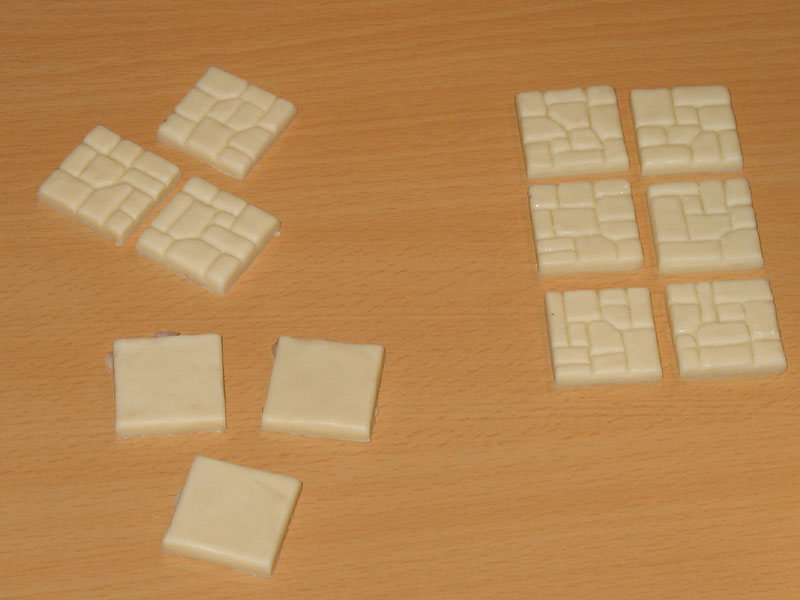 We also gave plaster a chance…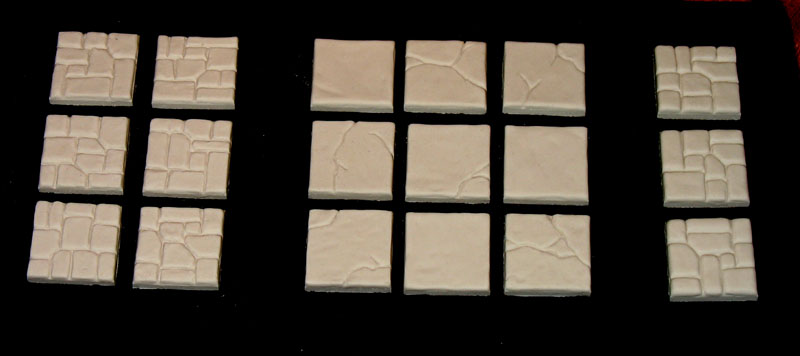 …they turned out nicely and were cheaper, but they ended up being heavier so we chose to stick with resin.
With these stone floor pieces you can assemble corridors that look like this…: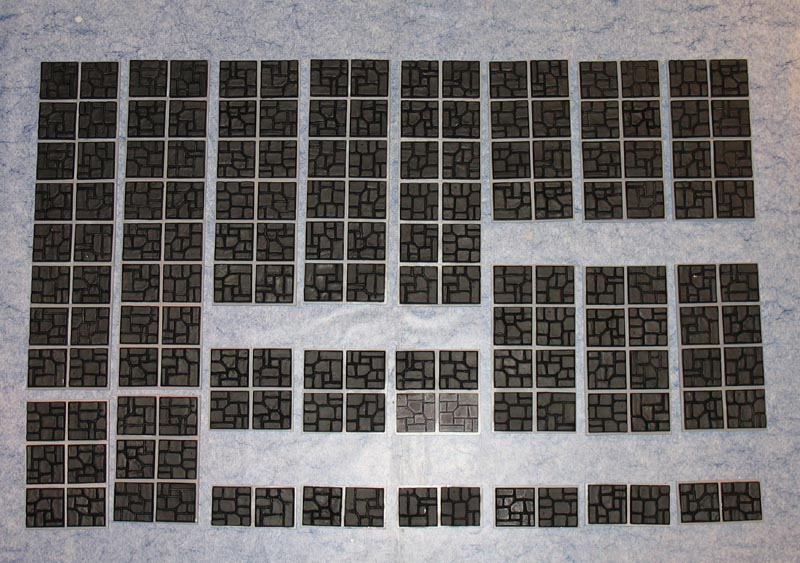 … as well as rooms that look like this: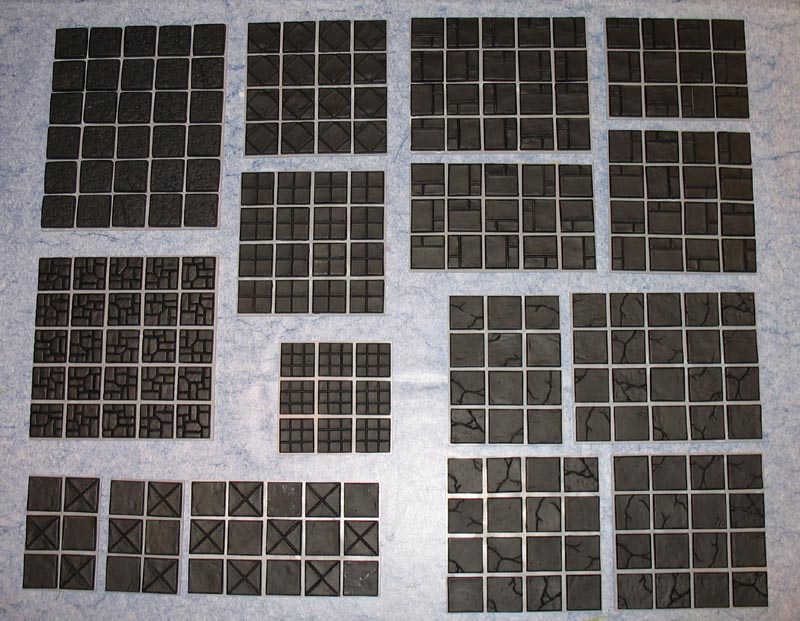 The painted version turned out like this: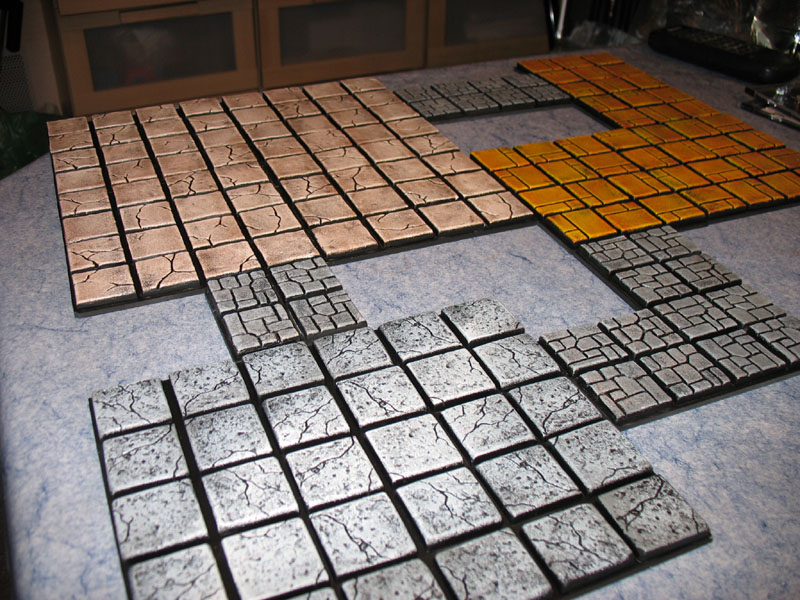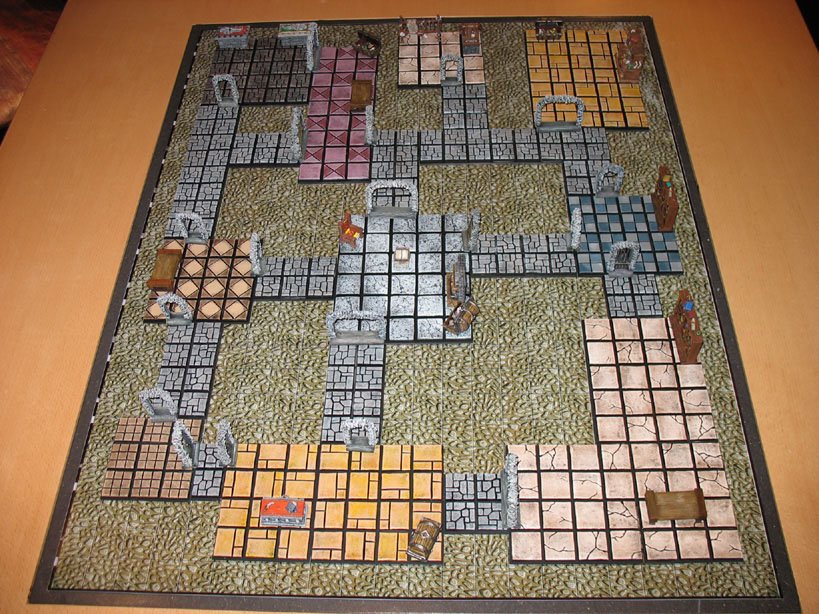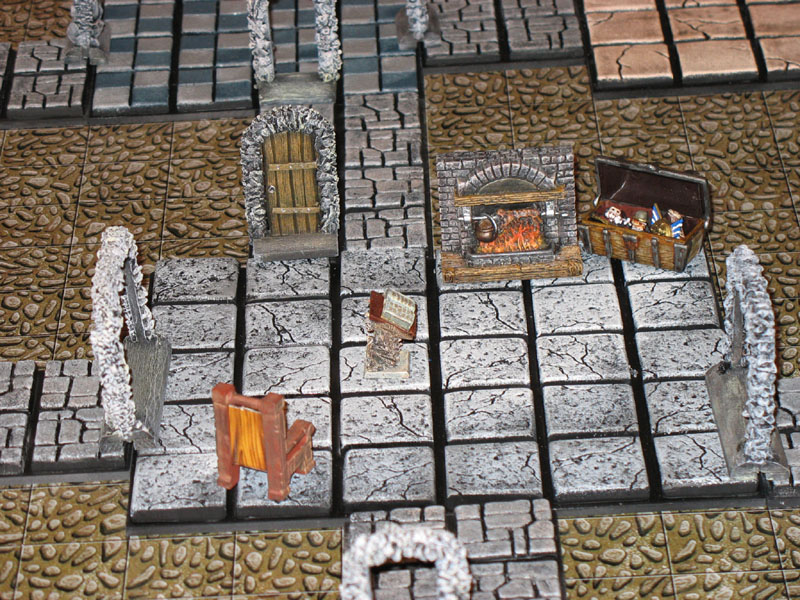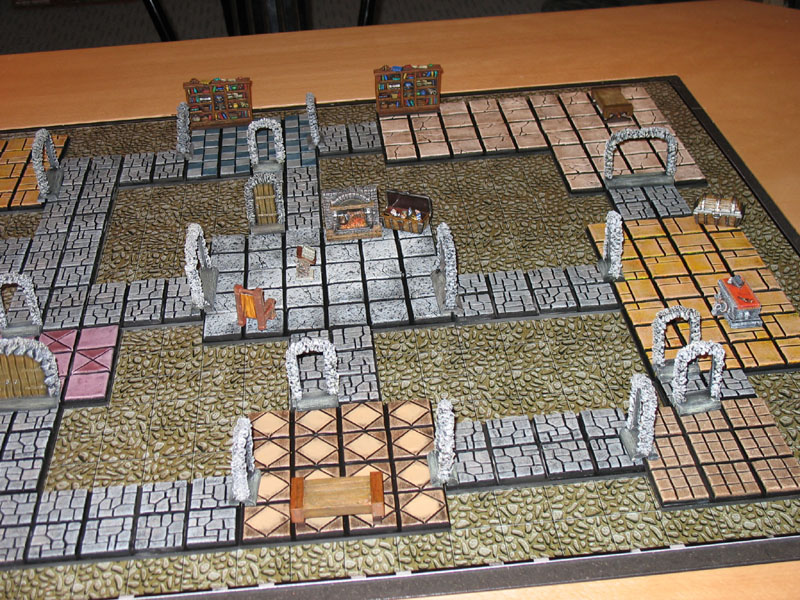 We are willing to sell these molds to anyone interested in recreating their own dungeon similar to ours. Please note that we are not doing this professionally or to make any profit. We are simply a few nostalgic fans who want to share our creations with others that would appreciate them as much as we do.
The price of each mould is € (EURO) 15.- all four of them are € 60.-
If you want to pay with Paypal, I have to charge you another € 5.- because I have to pay a fee for currency conversion. If you live in Europe, you can send me money through a regular bank transfer, since this year money transfer is easier thanks to the new SEPA System.
As soon as the money is tranfered, I start casting on the following Saturday. On Monday, the package is leaving Hamburg (Germany) to your place. We are getting a "tracking number" from the german post office. I don't know, how long it will take, but I assume not longer then 3 weeks, also depending from where you are. I did send moulds to USA, Spain, England, France, Belgium, Netherlands and even China …until today, every package arrived. I ONLY send insured packages… that means you have to sign the arrival, when the postman appears.
For postage & packing I charge you with € 7.- (this includes insured sending). For the most countries, it worked with € 7.-… it might be, that you live in a far away country… in this case, there will be a slightly higher price… but I doubt that.
Please write an email to:
moulds at hq-cooperation . de
for further Information. Sometimes I am not sure, if you really got my return mail… Please answer to me in ANY case… to ensure you received my mail.
We have four different moulds, here are a few pictures of the stones:
#1 Corridors: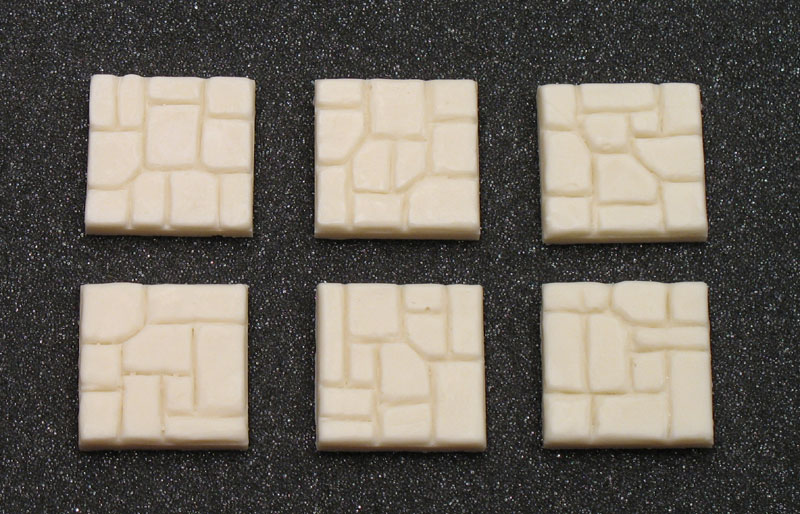 #2 Broken marble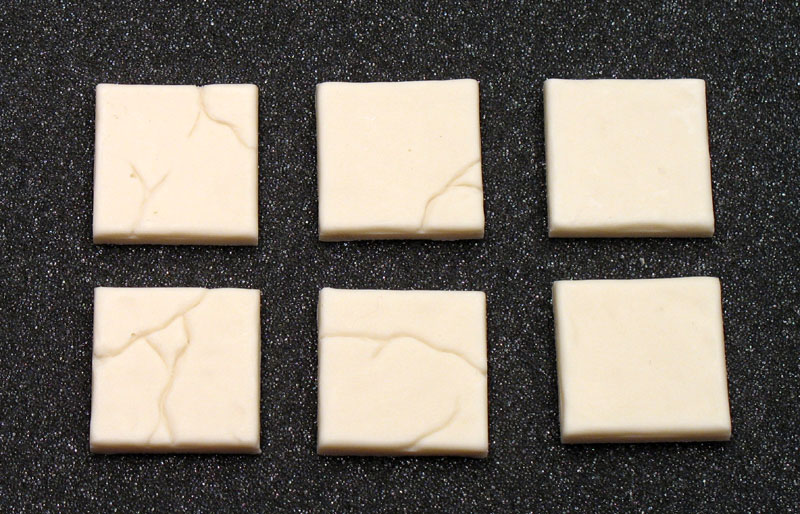 #3 Rooms "A"
#4 Rooms "B"